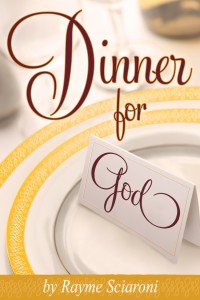 What would you do if you received a letter from God asking you to host a dinner . . . in God's honor?  What would you serve?  What would you wear?  Who would you invite?  What would you talk about?
Thus begins the irresistible story of Jenny, a woman in her early fifties who receives such a letter.  It states that each invited guest of her choosing may bring a dish they would like God to taste, and to wear clothing they would like God to see them in.  The letter also encourages Jenny to invite 'someone she doesn't know very well' to the auspicious evening.
Hoax or not, Jenny agrees to do what the letter asks, and in the process is unexpectedly exposed to delightful insights and wonder of who God might be, through the intriguing dinner guests she invites, some who accept with skepticism, others whole-heartedly . . . twelve in all.
Following her joyful journey to the night of the actual dinner, her guests arrive dressed in their best with an eagerness to present their finest home-cooked dishes and other unexpected gifts of their own.  But several questions surface . . .
Where did the letter from God come from?  Who wrote it?  Is it a scam?  Will God really show up?
The story climaxes with unforeseen surprises that far surpass the expectations of Jenny or her guests, expanding their awareness of what or who 'God', or, among other names, 'The Universe', might mean to them.
CLICK HERE TO PURCHASE
Explore the following Resources to complete your Dinner for God experience