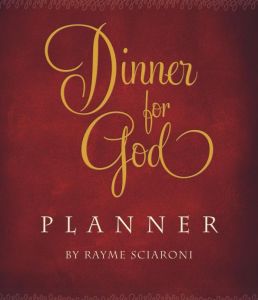 The 'Dinner for God Planner' is your own personal workbook to host your own Dinner for God down to every last detail.
Expanding on the guide section in the back of the book, 'Dinner for God', this planner takes you step by easy step from the very beginning to the very end of your special dinner.
The 'Dinner for God Planner' includes creative ideas about your guest list, your invitations, your menu, your table themes, approaches to saying Grace, presentation of dishes, table topics, sharing of talents, final words and sharing of each others recipes.
There are also several blank pages between each step for you to write down your plans, what your thoughts are as you make them, and extra space to write down your profound thoughts that you discover along the way. You will also be able to write down funny antidotes that will be happening along the way!
The 'Dinner for God Planner' is a book that you will turn to time and time again for future meals and will undoubtedly be a treasured 'scrap-book' of memories that will be passed down to future generations.
CLICK HERE TO PURCHASE
Explore the following Resources to complete your Dinner for God experience