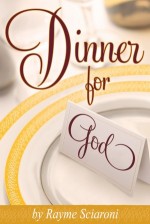 The Book
Take a journey like no other you've experienced with Dinner for God.  This is a story with joyful characters and loving messages that can inspire your imagination to run wild and free. Rediscover the basic 'Being-ness' that we all strive to Be, and CELEBRATE it with ENTHUSIASM and BOLDNESS!  Dinner for God offers you the chance to FLY as far as you wish . . . and then further!!!
CLICK HERE to purchase the book   |  CLICK HERE to learn more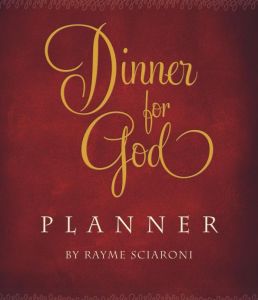 The Planner
Take your experience to a new level with the 'Dinner for God Planner'. Everything you need to think about for hosting your very own Dinner for God are in these pages. Of course, if you're familiar with how to create a special dinner party, this planner can only enhance how special you want to make your event. You have decided that it will be a dinner party like no other dinner party! The stakes have been raised. The quest for high quality and detail, right down to the smallest sugar cube, cannot be overlooked.
CLICK HERE to purchase the planner | CLICK HERE to learn more

The CD
The story of Dinner for God' has a unique twist that other books don't have – a collection of five original heartfelt and tuneful songs that integrate into the reading experience.  Fully complete your experience of Dinner for God by immersing yourself into these songs that interlace seamlessly into the story.  This is a fresh and new idea that intensifies yet another one of your senses to an already heightened state.
CLICK HERE to purchase the CD   |   CLICK HERE to learn more


The Sheet Music
Would you like to learn how to play the songs from the story of Dinner for God?  They are available here for purchase!  Each song is transcribed for piano and voice with chords (song titles listed below).  Let these songs continue to bring the joyful moments you had while reading the story and share them with your friends and loved ones.  They'll want to sing along with you!  Enjoy!!!
CLICK HERE to purchase the sheet music
Drivin' My Own Heart – Words and Music by Rayme Sciaroni
Just You – Words and Music by Rayme Sciaroni
One Small Voice – Words and Music by Rayme Sciaroni
Green Light – Words and Music by Rayme Sciaroni
Mister Sun – Words and Music by Rayme Sciaroni